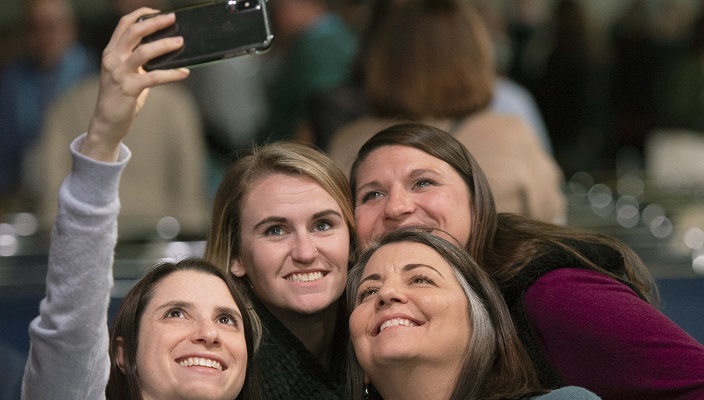 Join thousands of Jews from across North America and around the world to learn, pray, share ideas, dance and sing, hear from inspiring speakers and the leaders of our Movement; reunite with old friends, create new connections, and make decisions about the policies of the Reform Movement. See highlights from URJ Biennial 2019.
Join us at the next URJ Biennial, December 8-11, 2021 in Washington, D.C. (National Harbor)!
Image
Worship
With a variety of worship services to choose from every morning and afternoon, followed by the unparalleled experience of praying at Shabbat services with 5,000 Reform Jews, worship is one of the highlights of the URJ Biennial.
Image
Exhibitors
The URJ Biennial Exhibit Hall features organizations and vendors from all over the world who reach thousands of congregational leaders in attendance.
Image
Learning
Learn from civic, cultural, and Jewish communal leaders in more than 150 sessions spread across five days. Sessions are designed to energize attendees with new ideas to bring home to their congregations and communities.
Image
International Speakers
Hear from some of today's most influential and fascinating people. Past presenters include Senator Elizabeth Warren, President Barack Obama, Michael Douglas, Madeline Albright, Danny Meyer, Letty Cottin Pogrebin, and countless others.
Image
Network
Our dedicated networking sessions will help you naturally connect with leaders like you from across the Jewish world. You'll make new friends and reconnect with old ones at this "family reunion" of the largest Jewish movement in North America. 
Image
Entertainment
Sing and dance with the best in Jewish music entertainment throughout the week, including daytime performances, nightly concerts, and the most energetic song session ever!
Save the Date for These Future URJ Biennials
Washington D.C. (National Harbor)
December 8-11, 2021
Orlando, Florida
November 8-12, 2023