Image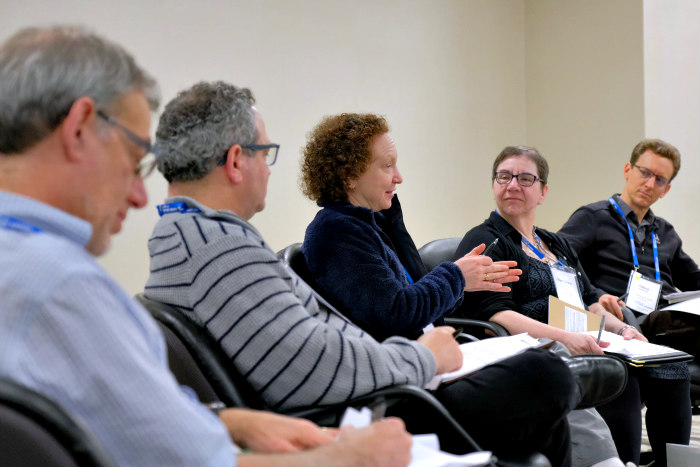 URJ Board Workshops will be offered online only through December 2020.
Yes, things are changing at a rapid pace. We can't meet together physically in the same way we used to. Has the need for leadership training and board planning and strategy gone away? NO! In fact, the need for congregational leaders to think generatively and take action is greater than ever.

The URJ is here to be your partner. Work with a trained facilitator to create a fantastic learning, discussion and action planning session which will catalyze your work as congregational leaders.
What is a URJ board workshop?
A URJ Leadership Workshop is a 2 to 3 hour focused workshop taking place via the Zoom online platform and tailored to your congregation's individual needs and interests.

As a benefit of your URJ membership, this workshop is led by URJ-trained lay leaders or staff, who will work with your congregation's leadership to craft and facilitate a dynamic and interactive session for your congregational board and/or specific leadership group.

During a URJ Leadership Workshop, participants discuss ideas, strategize, and plan for the future of the congregation. Following the workshop, the congregation will receive support from the URJ as it proceeds to the next steps.
How does the URJ plan a workshop for my congregation?
The facilitator and congregational leadership work together for several months to plan for the workshop. URJ staff and volunteers will work with your congregation well in advance of, and after, the workshop to:
Clarify the goals and desired outcomes of the workshop
Speak with stakeholders in the congregation
Survey the board, if applicable
Ensure that a minimum of 80% of the group will be able to attend the workshop
Facilitate the workshop
Help define next steps for the congregation and leadership
Provide guidance and support following the workshop
Identify next steps for the congregation to explore as it moves forward
Provide feedback about the workshop
Communicate with the URJ as the congregation proceeds in accomplishing the next steps
Who are the facilitators?
URJ Leadership workshops are led by volunteers, congregational leaders, and URJ staff members, who have been trained by the URJ to work with groups of people and to guide them through an interactive, participatory, productive and meaningful discussion. Our facilitators bring years of experience working with congregationss. In order to stay current, facilitators share resources with each other and participate in ongoing development sessions, including training in online meetings and facilitations.
Topics
Congregational Governance and Sacred Partnership
What is our "why?": Thinking about Mission/Vision/Values
Building Blocks of a Better Board

Rethinking the role of the board
Preparing to be an effective board member
Working with committees and task forces
Creating effective meetings and the balance between fiduciary, strategic and generative governance

Sacred Partnership: Working effectively and productively with our partners
Communicating effectively with one another

Leader to leader
Messages we send to our congregants and congregation

Recruiting and engaging new volunteers
How we work with volunteers
Engagement
Engaging members beyond the "usual suspects"
Deepening relationships in your congregation
Conducting a Listening Campaign/How to facilitate a listening group
NEW! Creating a Culture of Philanthropy
Creating A Culture of Philanthropy in our congregation
Who Does What? Roles and responsibilities of leaders in a Culture of Philanthropy
Storytelling and the importance of a great narrative
Mastering "the ask"
Planned giving and endowments
NEW! Sparking Innovation and Change
Understanding Change and Transition
A Mindset and Readiness for Change
The Change Continuum: Thinking about Improvement, Transformation and Disruption
The Five Shifts Congregations Need to Make To Keep Up With Changing Times
Prioritizing the Work: The Three Box Solution
Prioritizing the Work: What Should we STOP Doing?
Want to request a workshop?
To begin the conversation, contact our Board Workshops team via the URJ Marketplace or at the URJ Knowledge Network (URJ1800@URJ.org)