Image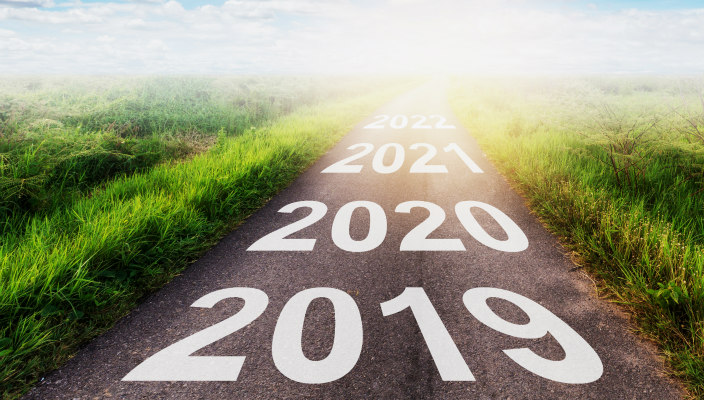 Seven years ago, just as I began my tenure as president of the Union for Reform Judaism, I stood before our Movement at the Biennial and shared the following:
"We are poised at one of the most critical and dramatic crossroads in all of Jewish history. If we stay put and leave things as they are, we will have failed the test of Jewish leadership. But we're not going to stay put. We are the Reform Movement, and we're going to get moving. We're going to move forward with strength and creativity."
Or, as our founder Rabbi Isaac Mayer Wise put it more succinctly in 1854, "We must either progress or retrograde; there is no standing still."
That directive rings just as true today as it did in both 1854 and in 2011. The very essence of Reform Judaism is a willingness to adapt and evolve while appreciating our history and traditions.
Right now, we are experiencing a moment of unprecedented change, both in the Jewish community and the wider world. The only way to take advantage of the opportunities brought by the relentless – and exciting – change happening around us is to constantly evaluate and innovate how we are investing our resources. Doing so ensures that the core work of the URJ continues to develop as we embrace the next generation of Jewish leaders and empower our congregations, their members, and those seeking Jewish community.
Under our 2020 Vision, we have already implemented changes that have expanded the Movement's reach and impact, and the coming months will bring more change that will ultimately allow congregations and individuals to have greater access to URJ resources and further equip congregations to serve their current members and attract new ones.
I also know that some of these changes will be difficult for members of our community, as they will impact programs with a long history in the Movement. These changes, while difficult, are designed to meet challenges and opportunities ahead rather than holding onto models that no longer achieve our goals.
Developing Youth Leaders
The very future of our Movement depends on inspiring, developing, and empowering the next generation of young Jewish leaders. We must create new ways of training for a new reality, including engaging and inspiring young people where they are, at home in their communities and as part of a North American network.
URJ Kutz Camp has long been at the leading edge of creativity, innovation, and leadership in the Reform Movement. For 54 years, Kutz has been the laboratory of Reform Judaism. Generations of teen leaders came to Warwick, N.Y., to experiment with religious practice, write the music that inspires us today, and learn to act justly and to lead our communities. Today we find that many of our teens are looking for these remarkable programs closer to home and at different times of the year.
As we position ourselves for greater impact, I want to share that the summer of 2019 will be the last summer of the Reform Movement's traditional leadership program at Kutz's Warwick site. Throughout the next year, URJ camps across North America and NFTY will join us in determining how to best bring the Movement's renowned leadership programming directly to the teens in our network of camps and congregations. I know many of you will want to know what will happen to the facility in Warwick, and the honest answer is that we don't know yet. We are exploring the possibilities.
I recognize that many, like me, will be saddened by this decision, but my hope is you will take comfort in knowing that legacy and its place in Reform Jewish history can never be diminished. Our commitment to the mission of Kutz endures as we look to take it directly to the people it has always been intended to serve.
Social Justice
For more than half a century, we have encouraged and enabled young people to live out our commitment to tikkun olam through Mitzvah Corps. The program has been reinvented many times over the years in order to serve communities in need and align with the Movement's social justice priorities. We are preparing for the next stage of that evolution with plans to create new programs. As a result, this summer, we will focus on four programs as we prepare to expand the program in the years to come.
Similarly, we will be reinventing the Religious Action Center's Machon Kaplan program to reach far more students. For the last four decades, we have hosted college students at the RAC and placed them in internships at organizations across Washington, D.C. Starting this summer, we will be flipping the equation and inviting all Jewish college students participating in an internship in Washington to participate in a series of programs the RAC will offer to add value to their experience. This will enable us to serve hundreds of students each summer rather than the few dozen we currently engage. Ultimately, we hope this will increase the pipeline of future leaders working for and with our Movement.
The Next Generation of "Introduction to Judaism"
Long before any other branch of Judaism had done so, the Reform Movement sought to welcome those outside our faith looking to explore Judaism, including spouses who are not Jewish and individuals exploring conversion. In 1978, Rabbi Alexander Schindler, president of what was then called the UAHC, challenged us to "respond openly and positively to those God-seekers whose search leads them to our door, who voluntarily ask for our knowledge."
The answer to that challenge became our Introduction to Judaism and A Taste of Judaism® courses, which are offered at local congregations and have been a valuable and significant resource designed to be accessible to a wide audience. We are shifting from coordinating in-person classes on behalf of a limited number of local communities with local URJ staff to offering centralized support for all our congregations. We will now be able to provide valuable curriculum and marketing resources directly to more congregations – and as people increasingly go online to learn, develop their sense of identity, and find community, the URJ is expanding our courses online so more people can participate in and benefit from them. In doing so, we will better provide much-needed support for smaller congregations that might not otherwise have the resources to hold their own local classes and provide options for those who may not be able to attend a course in person.
New Ways of Mattering Locally
Our synagogues are the front doors of our Movement. They are the most visible sign of our presence and the entry point for so many who are seeking to live a meaningful Jewish life. How the URJ supports our synagogues is an ever-evolving dynamic that does not have a simple answer.
In recent years, that support has included an experiment with URJ Communities, which began as an effort to help forge bonds across city, state, and provincial boundaries and allow our congregations to learn from one another. It has become clear that the program is not achieving its goals, and it will come to an end on June 30, 2019.
We need to continue innovating and reimagining how the URJ works with congregations to engage with local communities in the most effective and meaningful ways possible. This change is the direct result of feedback we have received from congregations about the partnership they want and need from the URJ.
In partnership with the congregations we serve, we will develop a new model that is forward-looking and responsive to current needs.
Change Built on Innovation
What will our future look like? Well, it's already all around us:
Our innovative Wedding Officiation Network will officially launch a pilot program in 2019 to connect couples with Reform rabbis and cantors in their communities to perform wedding ceremonies and lay the foundation for new relationships between young couples and their local congregations or Jewish community.
We recently took an important step in deepening our institutional commitment to Zionism, including welcoming Rabbi Josh Weinberg to the URJ as vice president for Israel and Reform Zionism.
The Religious Action Center has expanded its work in both Washington and at the state and local levels, including through four new state offices and increased support for a growing network of organizers and clergy engaging on issues that directly impact their communities.
The JewV'Nation Fellowship is expanding to include a new cohort of LGBTQIA+ leaders who will receive professional development, networking opportunities, and project incubation to build the field of Jewish leaders both in the Reform Movement and more widely.
We have deepened our partnerships with congregations across North America through a new Benchmarking and Assessment program that allows congregations to understand themselves in comparison to other congregations.
We have enhanced our ability to develop lifelong Jews by attracting campers and participants to an increasing variety of summer specialty programs in the U.S. and Israel.
We are designing programs to provide concrete value to congregations on the issues they care about the most, especially financial challenges, which are at the heart of almost every congregation.
Also in 2019, we will conduct a national search to find and hire the best person to serve as the inaugural director of a new young adult network, to ensure we are engaging those who identify with the Reform Movement but may be less interested in traditional institutional Judaism.
Change is never easy, but standing still never got anyone anywhere. At the core of our work and inspiration remains the strong tradition and spiritual connection of Reform Judaism, speaking at once to the past, the present and a bright future. We embrace the risk of experimentation to reap the rewards it can bring to our Movement. As I said at that first Biennial as president, "We're going to move forward with strength and creativity."
Have something to say about this post? Join the conversation in The Tent, the social network for congregational leaders of the Reform Movement. You can also tweet us or tell us how you feel on Facebook.
Related Posts
Image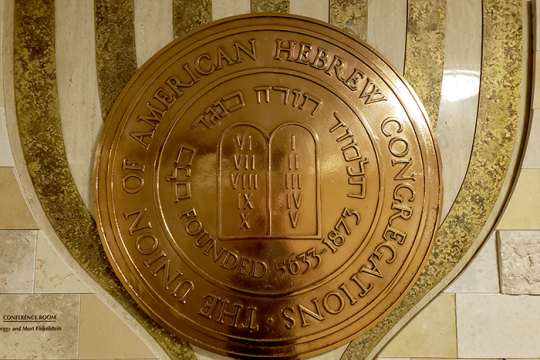 Twenty-eight congregational leaders met in Cincinnati in the summer of 1873 to establish the Union of American Hebrew Congregations (UAHC), which we now call the Union for Reform Judaism. And so, 150 years ago, the Reform Movement in North America was born.
Image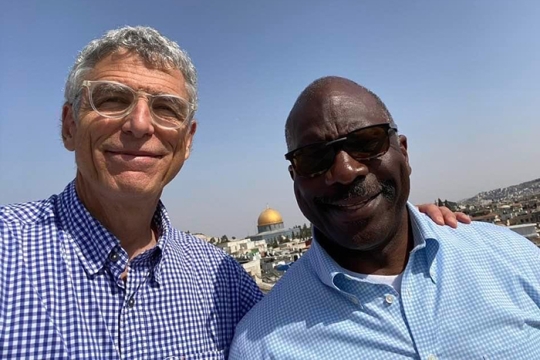 Last week, we traveled together to Israel and the Palestinian territories with a remarkable group of Black civil rights leaders and Reform Jewish leaders, including those who sit at the intersection of being Black and Jewish. We imagined that there would likely be bumps along the way, and there were. However, our group knew one another from our ongoing social justice and racial equity work in the United States, so there was a reservoir of goodwill and commonality that served us well.
Image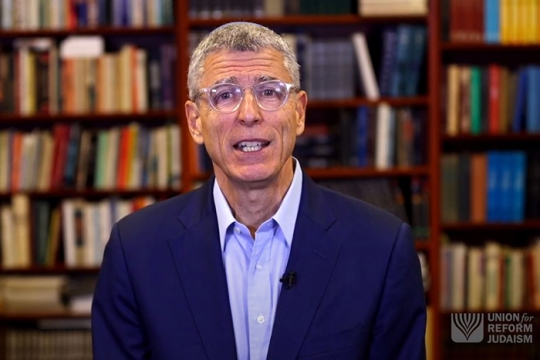 I pray that our observance of Yom Kippur will be probing and transformative, helping us become the best people and the most inspiring Movement that we are meant to be.