Image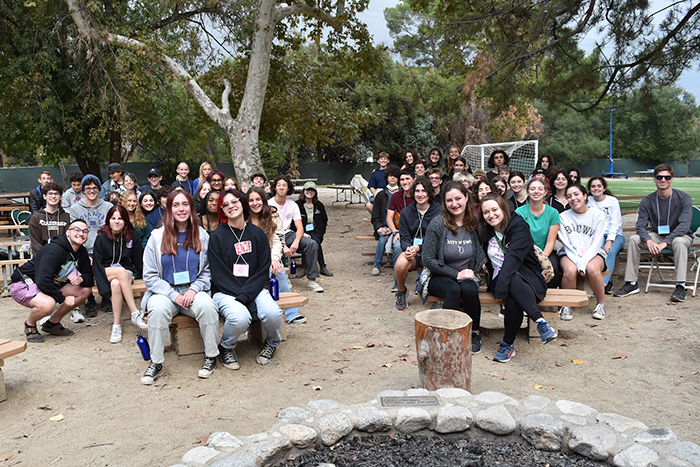 Leadership demands two kinds of courage: the strength to take a risk, and the humility to admit when a risk fails.
- Rabbi Jonathan Sacks
During the COVID pandemic in southern California, we saw our Jewish communities weaken. From our camp spaces disappearing to our teen youth groups (TYG) struggling, many of us stopped programming and decreased in membership, while a few of us thrived the best way we knew how - by joining forces. For us, as youth directors, advisors, and educators, we knew this was the way to keep teens inspired and engaged with one another.
Joint programming is not a new concept but reintroducing it as a movement that employs our teens and enables them to collaborate with one another provides them with a different set of skills and new ways to learn.
I knew we needed to test this idea with board training. Every TYG has their own board training at the beginning of the year, allowing newly elected leaders to identify their goals for the year and plan out their programs. So why not bring multiple synagogues together and let our teens learn from one another?
It is important to me that my teens meet other Jewish teens outside our synagogue and see the potential of working with others.
In October 2021, nine synagogues came together for eight hours for in-person board training, focused on our TYG board positions. We met at Camp Alonim for a training run by our TYG staff to teach our board members about the importance of each of their positions. Afterwards, we saw how beneficial this training was for our teens. They had the chance to network and engage with one another in person, seeing other teen leaders struggle and thrive and building a support system across southern California. We knew that we needed to bring this program back, but with a twist.
TYG board members are not the only leaders in our synagogues. Religious schools and other teen programs like Tzedakah Club, Moving Traditions, and Teen Civic Leadership Council exist in some of our synagogues, providing more leadership opportunities for our teens. We knew that we could draw more teen leaders in by expanding leadership programs.
Two weekends ago, 55 teens across southern California, hailing from 12 synagogues, attended our first Teen Leadership & Madrichim Development Overnight at Camp Bob Waldorf in Glendale, CA. Our focus was helping our teens network, engage, and collaborate through leadership-based workshops and team building experiences.
We were excited to host teens from:
Temple Emanuel in Beverly Hills
Temple Israel of Long Beach
Temple Beth Israel Pomona
Shir-Ha-Ma'alot in Irvine
Congregation Or Ami in Calabasas
Kol Tikvah in Woodland Hills
Temple Akiba in Culver City
Temple Ahavat Shalom in Northridge
Temple Beth El San Pedro
Temple Isaiah in Los Angeles
Temple Beth Hillel in Valley Village
Temple Aliyah in Woodland Hills
NFTY SoCal
We brought in four Jewish organizations to focus on concepts our teens struggle with incorporating into their monthly programs. Tzedek America hosted a discussion around ways social action can benefit our community. URJ California Camps' assistant director, Rachel Dubowe, helped our teens learn about active listening and communication, while Tivnu Gap Year Program came down from Portland, OR to teach our teens about homelessness and the social impact we can have on our local communities.
We had StandWithUs engage our teens with a simulation about antisemitism, learning how to be active on social media without getting caught in the crossfire and teaching other teens about the importance of Israeli knowledge and current events in the world today. Moving forward, we hope that our teens will be able to integrate more diverse programming into their teen youth groups and collaborate with each other more.
We asked our teen leaders to describe their experiences this past weekend:
This experience is more impactful than you might know. The bonds you create with the people at these retreats grow increasingly stronger the more you come back and the more amazing it gets. Going to retreats really separates you from the outside world and lets your true self shine … everyone who comes to these events is open and friendly. I am going to remember them for the rest of my life … these events have helped make me the person I am today, and I couldn't be happier!
- Rachel Nisenholtz (she/her), 11th Grade, president (Temple Israel of Long Beach)
I want other teens to know that everyone at the retreat is very welcoming and the activities and skills that I learned there were very useful and interesting. I met so many nice people and I am so glad that I had the opportunity to go because I had such an amazing experience.
- Hailey Katofsky (she/her) 11th Grade, Engaged Teen & Tzedakah Teen board member (Kol Tikvah in Woodland Hills)
What an amazing experience this was for me. This is my first year on our teen youth group board. I decided to take on the challenge of being president so that other teens could see what an incredible opportunity it is and to show my friends that this is something I am passionate about. I came on this retreat as a TYG Board Member as well as a madrich at our religious school to show everyone that it doesn't matter where you are as a leader, [as long as] you try and show up … I am so happy I made other friends in southern California that I can reach out to and plan teen programs with. I'm excited for the next event like this!
- Samantha Ugolnik (she/her), 10th Grade, president (Temple Emanuel in Beverly Hills)
It's a great opportunity to really find yourself as a leader in your community, whether as a TYG board member or madrich ... It was another great experience to bond with friends and make new connections, and I highly encourage going.
- Jordan Berger (he/him), 11th Grade, membership vice president (Shir-Ha-Ma'alot in Irvine)
This retreat provided so many great workshops in becoming a stronger leader in many types of situations. It's a great way to connect with your friends and make new ones. You'll return from this a stronger leader and overall, a more well-rounded person. Highly, highly recommended.
- Max Perler (he/him), 9th Grade, communication vice president (Temple Israel of Long Beach)
We can collaborate with Jewish organizations in different ways. Moving forward, we expect to see our NFTY SoCal Teen regional board members engaging with our TYG board members at synagogues across southern California. We are working hard to ensure that our SoCal community is providing multiple leadership opportunities for our teens.
I will continue helping my Jewish community grow by working with other TYG educators and professionals grow and develop themselves and their teen youth group programs.
When we embrace partnership with other Jewish organizations, we are setting an example in leadership. I want to continue setting that example so our teens can continue to build meaningful Jewish worlds by working together.
Are you interested in helping build the Reform youth movement and partnering with your teens to run a NFTYx event in your community? Check out the NFTY website's Jewish Professionals page to learn more or email us at nfty@urj.org.
Related Posts
Image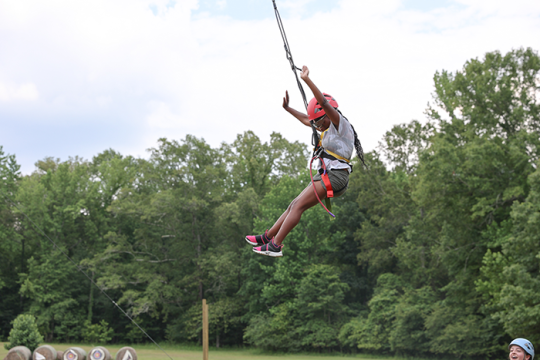 NFTY founded Dream Street in 1975 with the belief that all kids should have the chance to have fun, make friends, try new experiences, and bring all of their identities to summer camp. Each summer, Dream Street accepts about 60 campers who have disabilities and/or mobility impairments like cerebral palsy, spina bifida, limb differences, and spinal cord injuries.
Image
When adults find out about my job as director of URJ 6 Points Creative Arts Academy, many of them say the same thing: "I wish that had existed when I was a kid!" I know how they feel.
Image
There has been a lot happening in the teen and youth space over these past weeks, and many more opportunities are coming down the pipeline.