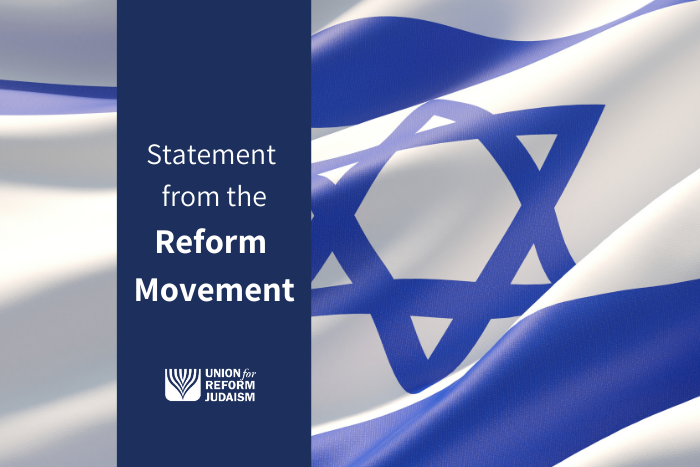 May 23, 2023 - The Reform, Reconstructionist, and Conservative Movements were overwhelmingly successful in passing important resolutions at this year's "extra-ordinary" World Zionist Congress April 19-21. The voting, which took place this week, resulted in the approval of a slate of resolutions drafted and supported by the Reform movement and ARZENU. 
Despite heavy interference and obstruction from right-wing groups, the liberal Movements passed key resolutions on issues being debated widely in Israel and by World Jewry, including support for LGBTQIA+ community, recognition of non-Orthodox conversions, support to not alter the Law of Return, and a commitment to democracy and human rights.  
"The discussions and debates that took place during this extraordinary World Zionist Congress are a reflection of the larger debate being waged in the Knesset and on the streets of Israel," said Rabbi Josh Weinberg, Vice President of the URJ for Israel and Reform Zionism and Executive Director of ARZA.  "Our Reform Movement delegation - along with our Reconstructionist and Conservative partners - demonstrated our resolve, commitment, and determination that our values of equality, justice, tolerance, and commitment to Israel as a Jewish and democratic State are strong and shared by many. Despite several attempts to stymie the democratic process and not allow voting, we prevailed. We will continue to build on this success in the WZO and on behalf of the State of Israel." 
Efforts to vote on the resolutions faced heavy interference from right-wing delegations: following extreme efforts to delay the voting process at the WZC conference in April, a last-minute petition was filed at the World Zionist Court by the Zionist Organization of America to again delay the voting process.  The petition was promptly dismissed by a judge and voting took place without further interference or dispute. 
The approved resolutions covered an array of issues of consequence to Jews across the Diaspora.  Most notable, and contentious, was the eventual approval of a resolution that criticized the Israeli government's judicial overhaul plans and sought to compel Netanyahu and his government to abandon the plan entirely. 
"World Jewry has spoken loudly and clearly: we will not allow right-wing groups to take away our right to tell the Israeli government that we believe in Israel as a Jewish and democratic state with an independent judiciary capable of defending the rights of all," added Rabbi Lea Muhlstein, Chair of ARZENU. "This is not a position held only by a minority on the left but represents the consensus of world Jewry."