Image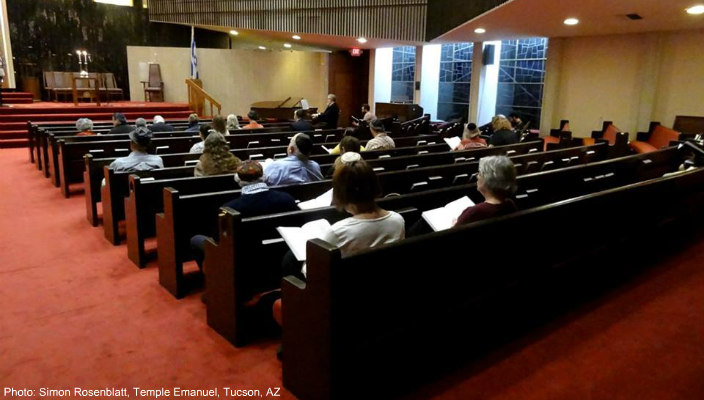 Judaism is a communal religion. We celebrate together, we mourn together, we worship together, we learn together, and we play together. The sages taught, for example, that you can't study Torah on your own. We need 10 Jewish adults, a minyan, in order to have a full prayer service. Likewise, while we may observe Shabbat, Hanukkah, and Passover at home, it's a lot more fulfilling to come together on Friday nights at the sanctuary, at the annual latke fry, or at the community seder.
When we love something, we want to share it – so why not be inspired to bring our Jewish friends into the kehilla kedosha (holy community), embracing them within a wonderful, sacred congregation? You're not pushing membership on them, but rather inviting them into a loving community where they will be welcomed. Likewise, if they already are affiliated with a synagogue, that's fine, too. This isn't a zero-sum game; it's an opportunity to build connections between and among communities. Our doors are wide enough for everyone who wishes to enter.
Here are five specific ways you can include your friends – from work, your yoga class, the dog park, or wherever you meet them – in synagogue activities:
Shabbat worship: Invite a Jewish friend or family to join you at a Shabbat service this year. If your synagogue is like many, you'll find a wide range of Friday night and Saturday morning services – some for adults, some for families, some musical, some including Torah study. Pick one that appeals to you, and bring a friend!
Food: Meals – especially Shabbat dinners – are a wonderful way to share your synagogue with friends. Instead of meeting at a restaurant or eating at home, invite friends to a synagogue dinner. Nothing says "welcome" like sharing the Shabbat blessings and breaking bread together.
Adult education: Does your synagogue have a lecture series? Adult-education classes on Sunday mornings or weekday evenings? Invite a friend or two to a class or lecture to nourish their soul (and yours) with engaging ideas and vibrant conversation.
Community celebrations: If you love your congregation's community seder, Hanukkah latke fry, or Purim shpiel, perhaps friends will, too. Inviting them to join you is a beautiful way to introduce them to your community and to kindle (or re-kindle) their interest in Jewish life. Perhaps there's a community seder that you like to attend, or a Chanukah latke fry or a Purim spiel. Shake that lulav in the sukkah. Tashlich on a riverbank. Bring your friends; it's a beautiful way to introduce your friends to your community, and kindle (or re-kindle) the flame of Judaism.
Social action: Social action activities – marching in a local Pride parade, cleaning a beach or roadway, assembling care packages for military troops, or serving to the homeless – often are open to all. Share the experience and the mitzvah (commandment) with your friends. They'll thank you for it.
Would your friends like to meet other Jewish families or singles or empty-nesters or seniors? They may feel better coming for the first time with others who can introduce them around, and may simply be waiting for an invitation from you!
That is how we build community: Together. Bring a friend!
Have something to say about this post? Join the conversation in The Tent, the social network for congregational leaders of the Reform Movement. You can also tweet us or tell us how you feel on Facebook.
Related Posts
Image
New webmasters Lisa Goldstein, RJE, Co-President Karen Freedman, and Treasurer Michelle Foels share what their motivations for choosing RJ Web Builder 3.0 were, what their experiences were like, and what features they most enjoy.
Image
The URJ Pulse Survey and the newly expanded URJ Pulse+ Survey showed that participating congregations were experiencing similar trends. Having the ability to compare your data with that of other URJ congregations will paint a picture that will help you assess where you are and share a more detailed story with your congregants and donors.
Image
Email and other technologies are a huge factor in why employees feel like they're always on the clock. This "always-on" culture accelerated while synagogues began facing declining membership before the pandemic and has only intensified since. Even if clergy or staff are cut, the work demands don't decrease. As a result, remaining clergy or staff or volunteers are even more overwhelmed and are burning out at alarming rates.