Image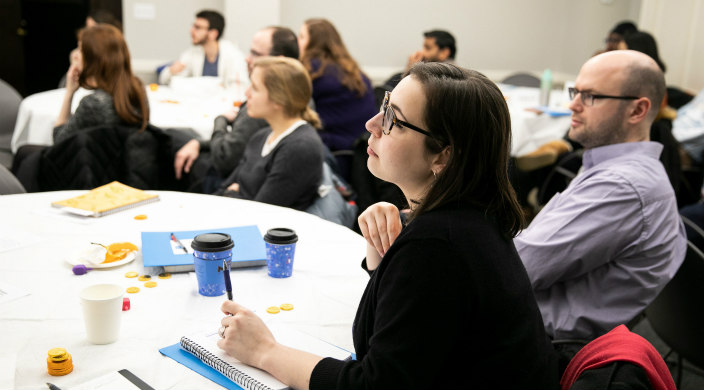 For more than 30 years, the Union for Reform Judaism (URJ), in partnership with our congregations and clergy, has offered A Taste of Judaism® and Introduction to Judaism programs, welcoming tens of thousands of individuals and couples into Jewish conversations and the Jewish community. With the goals of offering greater support to more congregations and reaching many more people, we are expanding our resources toward these in-person courses. In addition, we are expanding the URJ's Introduction to Judaism online program to support congregations that do not offer in-person courses.
Congregations that offer A Taste of Judaism® or in-person Introduction to Judaism courses are invited to share course details with us so we can offer help with registration, marketing, and administration, as well as educational resources and consulting. Tell us about your program here.
According to Rabbi Andrew Vogel of Temple Sinai in Brookline, MA, a congregation that has long offered A Taste of Judaism® and Introduction to Judaism classes:
"It's not an overstatement to say that some of our most devoted lay leaders and most active congregants are folks who came to us through A Taste of Judaism® or Introduction to Judaism. These classes have been a powerful entry point for newcomers to Judaism, Jews reconnecting with their Judaism, and interfaith couples who are exploring what it could mean to create a Jewish home and family together. Through these experiences, their eyes have come to 'shine with the light of Torah,' with joy, curiosity and enthusiasm. Our congregation is enriched by their presence, and so is the Jewish people."
A Taste of Judaism®
For individuals who have little or no experience with Judaism, entering a Jewish space can feel overwhelming and intimidating. They may worry: Will I be accepted? Will my questions be welcomed? Will I be pressured to make a commitment?
A Taste of Judaism® aims to ease those concerns and eliminate perceived barriers of entry to the Jewish community. This free, three-session program offers an easy access point to liberal Jewish life for those who are curious about Judaism.
Program participants include interfaith partners, spiritual seekers, Jews who are interested in reconnecting with Judaism, individuals considering conversion, and individuals who are exploring Jewish family heritage. Many have never before entered a synagogue or met a rabbi or cantor. For those who are interested in a deeper or ongoing relationship, the program fosters a connection with the host congregation and its rabbi, cantor, or educator who serves as faculty.
After completing the three-session A Taste of Judaism® program:
Eighty-nine percent of students say they are likely to seek additional opportunities for Jewish engagement
Thirty-three percent subsequently enroll in an Introduction to Judaism course
Thirteen percent seek a connection to a rabbi or cantor to explore conversion
Rabbi Michael Pincus of Congregation Beth Israel in West Hartford, CT, whose experience includes teaching A Taste of Judaism® had this to say:
"It was a joy to teach A Taste of Judaism®. We never would have reached this diverse group of people without it. For the Jews who took the class, they learned more about their heritage. For those in interfaith families, it helped created greater understanding. And, for those who knew little about Judaism, they came away with information to be more informed…. The financial, educational, and organizational support [offered by the URJ] made this an easy and effective program that touched many lives."
Introduction to Judaism
Congregations that offer in-person Introduction to Judaism (or similar) courses should share course details with us so we can provide support around registration, marketing, and administration, as well as educational resources and consulting.
Specifically, URJ staff will:
Post the congregation's course offerings on ReformJudaism.org, a site with 300,000 monthly visitors
Provide a customizable marketing toolkit
Administer participant registration and review every submission
Place paid, geographic specific social media advertising – up to $300 per course – on Facebook and Instagram
Respond directly to all inquiries from prospective students, including those who express interest through our website pop-up boxes, and as appropriate, refer them to congregational clergy and/or staff
Forward detailed and up-to-date class rosters to congregational liaisons for follow-up about specific course requirements, course materials, and tuition
Provide a customizable digital template for the Certificate of Completion
Offer curricular resources and one-on-one consulting to faculty and congregational leadership
In addition, through the generosity of the National Center to Encourage Judaism (NCEJ), a limited number of marketing grants are available to URJ congregations that meet minimum requirements.
The URJ looks forward to continuing to offer relevant, meaningful programs and resources that welcome and engage individuals, couples, and families in Jewish conversations and the Jewish community.
For more information, please email us.
Related Posts
Image
Not everyone I know attended the URJ Biennial, but it felt that way. I ran into people from every school, youth program, and synagogue I've ever worked with or attended. My friends and colleagues who missed it complained of a condition called "Biennial FOMO" (Fear of Missing Out).
Over the past few years I have had the pleasure of hosting A Taste of Judaism® classes at Congregation Beth Elohim in Brooklyn, N.Y. The first time was at a local restaurant; the second was in the synagogue building. Over the course of teaching this class, I have learned a number of important lessons and have seen many benefits. When it works, here is what congregations and participants can get out of the class.