Image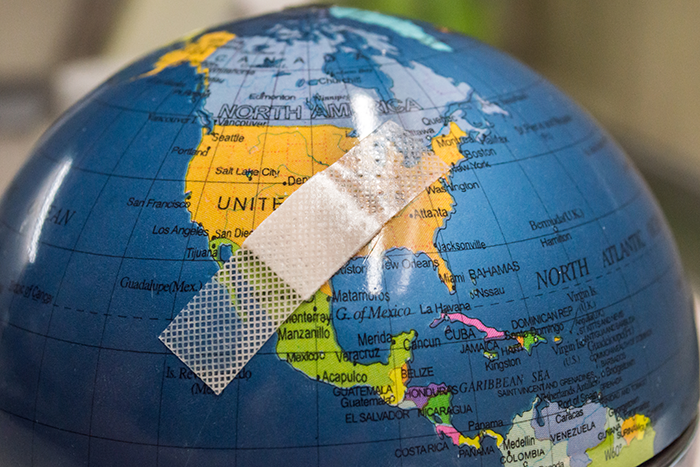 I'm good with glue. I've been known to carefully piece together a huge umbrella stand that somehow took a tumble and ended up in a variety of jagged, misshapen pieces. So, when my friend expressed dismay when his Celestial Buddha, the most treasured of his sacred objects, lost its head recently, I volunteered to reattach it. Soon after, he asked if I could reaffix a pair of tiny tusks to Ganesha, the Hindu elephant god. "I don't think I can do this, " I thought, "but I'll give it a try." When my repairs held, no one was more surprised than me.
As I approach the Days of Awe, I find myself with a tube of glue and several toothpicks in my hands. I'm trying to ready my home for a traditional family dinner as I reattach the finials to my dining room chairs, painstakingly glue the knob of my mother-in-law's silver teapot back in place for the umpteenth time, and put the head back on a mini clay rodent that lives in a kitschy little mouse house on my kitchen shelf.
Perhaps the act of gluing is a metaphor for tikkun olam, the act of repairing the world, which is central to our beliefs as Reform Jews. There are so many issues to ponder. One that comes to mind is the question of resolving the gap of inequality that surrounds us. Can we learn to shift away from greed and self-elevation to find compassion for the poorest and most vulnerable among us? How do we make others see that everyone has a right to fresh water and food, a comfortable and secure place to rest at night, and a sense of peace? By what means do we move others to recognize that in the end we are all the same, regardless of birthplace, skin color, gender, language, ability, or the God to whom we pray?
Our earth cries out for moderation and justice, yet we still ignore the impending doom. Our streets are flooded with guns and blood. A sixth-grade girl in Mississippi who has been raped has no resources to take a nine-hour trip to Chicago, so she is forced to carry her pregnancy to term. School boards and governors tell us what we can learn and read. The list continues with so many causes that the demands feel overwhelming.
Guidance from Rabbi Tarfon in "Pirkei Avot" provides a path forward: "Do not be daunted by the enormity of the world's grief. Do justly, now. Love mercy, now. Walk humbly, now. You are not obligated to complete the work, but neither are you free to abandon it" ("Pirkei Avot" 2:16).
As I contemplate the issues I can tackle, I also find myself thinking about my actions toward others and asking for their forgiveness. I've been encouraging those I hold most dear to repair their relationships with one another and to seek understanding and closeness instead of anger and disappointment. It seems to be working, as a recent challenging situation yielded to a sense of forgiveness and relief as we spoke one-on-one and attempted to understand the other's viewpoint, determining to try harder next time.
We each have skills and talents that allow us to contribute to the wider world and our homes. For me, family provides a launching pad. Just like my parents, I'm there with enough love to inspire risks, and to encourage, prod, and support my loved ones as they soar. I urge those I hold dear to follow their dreams and offer them a haven when life beats them up, a place to return to recharge or lick their psychic wounds when they fizzle instead of fly. A place where all can truly be accepted for who they are, despite our flaws.
I strive for peace in my heart and home so I can share it with those I most treasure as well as those I've never met. For all the cracks in the world - the pain, sorrow, and challenges of living - a metaphorical tube of glue goes a long way. There might be a scar where two pieces come together, a permanent structural weakness; or maybe, like a broken bone, the world will return to its former strength when the healing is complete.
We may slip and fall, forget to do or say the right thing, or give in to our baser instincts. But if I listen to that little voice inside my head, it reminds me that a tube of glue is inexpensive and when applied in the right place with some gentle care, it can make things whole again.
What troubles you most about issues within your family and the world in which we live? What will you mend this year, both at home and in the wider world? I hope that whatever positive change you seek, you are empowered to repent, repair, and, most importantly, renew.
Related Posts
Image
Before we know it, Rosh HaShanah, Yom Kippur, and Sukkot will be upon us in rapid succession, signaling the beginning of the new year and the start of planning for upcoming programs. Here are a few resources to help you reflect and create meaningful experiences for your congregation as you celebrate the High Holidays and move into 5784.
Image
As congregational leaders, we do our best to make our High Holy Day services some of the most memorable (and beautiful) of the year. Of course, Bloomingdale's displays are meant to entice customers inside so that they purchase something. However, we offer something of much greater value that should not come with a price tag: community.
Image
In recent years, our synagogues have explored what it means to be 'expanding the tent' and embracing 'audacious hospitality.' Both ideas center around the notion that our Jewish communities ought to be places of belonging - spaces where everyone is welcomed, affirmed, and can feel at home.