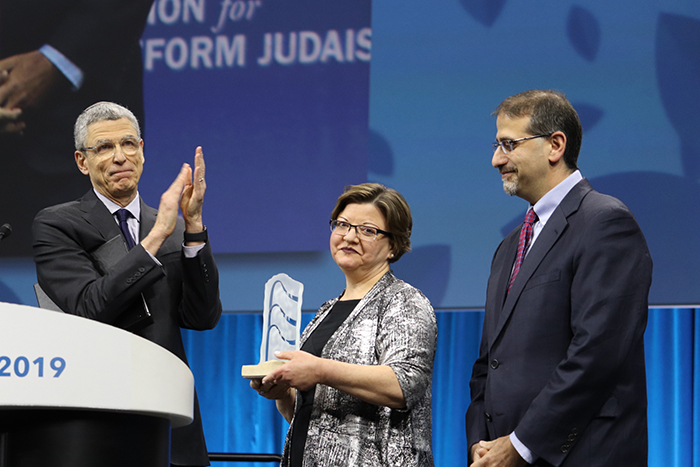 Irving J. Fain Social Action Awards 
The Fain Awards are presented every two years to congregations whose work in the area of social justice is exemplary: congregations that have successfully involved large numbers of congregants in their social action programs or that have developed genuinely innovative and/or particularly effective projects. 
---
Belin Awards 
Honoring congregations of all sizes that have developed uniquely innovative and effective Audacious Hospitality programs, the Belin Awards also solicits programs and practices that engage and retain members of our congregations. Lay leaders as well as congregational staff are encouraged to apply. Learn more in The Tent.
---
The Maurice N. Eisendrath Bearer of Light Award 
Named in memory of Rabbi Maurice N. Eisendrath, the executive director and President of the Union of American Hebrew Congregations from 1943 – 1973, this award is the highest honor bestowed by the Reform Movement. 
Rabbi Eisendrath began his leadership of the Union as executive secretary, a position which was later changed to president. In 1951 Rabbi Eisendrath moved the Union's headquarters from Cincinnati to New York, dramatizing the adoption of a more dynamic program of leadership within the Movement. The Union purchased its first camp in the early 1950s, and the Movement's emphasis on social action began in earnest, culminating with the 1961 founding of the Religious Action Center of Reform Judaism. Under Rabbi Eisendrath the Movement experienced tremendous growth, as congregations were formed in the new suburbs populated by returning GIs. By 1956 there were 536 congregations in the Union, and by 1970 the number reached 706.
Every two years at the Union for Reform Judaism's Biennial, the Maurice N. Eisendrath Bearer of Light Award is conferred in two categories: Service to Reform Jewry and Service to the World Community.
---
Alexander M. Schindler Award for Service to World Jewry
Named for the second President of the Union of American Hebrew Congregations, this award honors an individual who has shown a passion, leadership and commitment in relation to World Jewry. 
During Rabbi Schindler's 23 year tenure as president, the Union experienced exceptional growth and significant developments in organizational policy. The visionary father of the Union's acclaimed Torah Commentary, Rabbi Schindler recognized and worked toward meeting the Movement's need for enriched religious school studies as well as stimulating and meaningful adult Jewish education. A true Ohev Yisroel, lover of Israel, he prodded the Reform Movement to participate fully in the Zionist world and was a prime mover in the creation of ARZA and ARZA Canada. 
Rabbi Schindler called on the Reform community to become "Champions of Judaism." He urged the Movement to welcome those who chose Judaism as their spiritual home and those who married into our faith and became involved in Jewish homes. Just as tenaciously, he promoted patrilineality, acceptance of Jewishly educated children of Jewish fathers as Jews and urged Reform Judaism to fortify the inner life of every Jew. In pushing for "inreach," spiritual self-actualization, he said: "What purpose of outreach, pray tell, if there is nothing within?" Rabbi Schindler repeatedly called upon Reform Jews to take pride in their faith and make Judaism a meaningful enterprise in their lives. 
Rabbi Schindler was a remarkably compassionate humanitarian, devoted to social justice and religious action, always seeking to better the human condition, to gain rights for the disenfranchised, and sustenance for the destitute and the downtrodden. 
---
The Debbie Friedman Award
Honoring those with a lifelong commitment to Jewish music and named for legendary American Jewish composer, singer, and recording artist Debbie Friedman z"l. Friedman is credited with creating a whole new genre of contemporary, accessible Jewish music. From the beginning of her career, she has taken the prayers, teachings and melodies of the Ancient Jewish Texts and set them to contemporary music. Because of her own powerful commitment, her belief in the expression of the values found in the text, as well as the quality and beauty of her songwriting abilities, her music is beloved by people of all ages and religions.
---
Past Award Winners
1975: Archibald Cox; Philip M. Klutznick, Rabbi Solomon B. Freehof (Eisendrath Award)
1977: Ralph Nader; Leo Pfeffer; Jane Evans (Eisendrath Award)
1979: Judge Bora Laskin; Justice Arthur J. Goldberg; Rabbi Samuel Cook (Eisendrath Award)
1981: President Anwar Sadat (Accepted by Ambassador Gorbal); Senator Jacob Javits; Judge Emil N. Baar (Eisendrath Award)
1983: Max M. Kampelman; Max M. Fisher; Rabbi Roland B. Gittelsohn (Eisendrath Award)
1985: Joseph J. Rauh; Abba Eban/Channel 13 -PBS Heritage - Civilization and the Jews; Rabbi W. Gunther Plaut (Eisendrath Award)
1987: Black Sash (Sheena Duncan, South Africa); UNICEF; Albert Vorspan (Eisendrath Award)
1989: Gerhardt M. Riegner; Senator Carl Levin; Dr. Jacob Rader Marcus (Eisendrath Award)
1991: James and Sarah Brady; Rabbi Harold M. Schulweis; Richard J. Scheuer (Eisendrath Award)
1993: Marion Wright Edelman; Sylvia Hassenfeld; Donald S. Day (Eisendrath Award)
1995: Shimon Peres; Rabbi Alexander M. Schindler; Bernard Sang; Robert L. Adler, z"l (Eisendrath Award)
1997: Ann Richards; Theodore Mann; E. M. Rosenthal (Eisendrath Award)
1999: Alice Shalvi; Ronald Adams; Rabbi David Saperstein (Eisendrath Award)
2001: September 11 Rescuers; Deborah Lipstadt; Ben Steinberg (Eisendrath Award)
2003: Kate Michelman; Amos Oz; Mark and Peachy Levy (Eisendrath Award)
2005: Barry Scheck and the Innocence Project; Ruth Messinger; Rabbi Eugene Borowitz (Eisendrath Award)
2007: Michael J. Fox (Eisendrath Award); Jeffrey D. Sachs (Eisendrath Award); and Debbie Friedman (Schindler Award)
2009: Irwin Cotler (Eisendrath Award); Avivah Gottlieb Zornberg (Eisendrath Award); and Harold Grinspoon (Alexander M. Schindler Distinguished Service Award)
2011: Ambassador Nancy Brinker (Eisendrath Award); Rabbi Richard Hirsch (Eisendrath Award); Theodore Olson and David Boies (Eisendrath Award); Rabbi Eric Yoffie (Eisendrath Award); Theodore Bikel (Debbie Friedman Award)
2013: Jay Feinberg (Eisendrath Award]); Women of Reform Judaism (Eisendrath Award); Rabbi David Hartman z"l (Schindler Award)
2015: Taglit-Birthright Israel - accepted by Charles Bronfman (Eisendrath Award); America's Journey for Justice from Reform Congregation Participants - accepted by Rabbi Seth Limmer and members of Temple Sinai, Chicago, IL on behalf of all participants (Eisendrath Award); Rabbi Daniel Freelander (Debbie Friedman Award)
2017: David Grossman (Eisendrath Award); Dr. Mona Hanna-Attisha (Eisendrath Award)
What's New
Image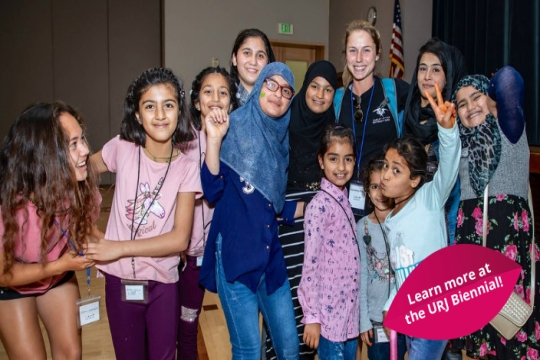 Congregation B'nai Israel in Sacramento, CA, created Camp Nefesh, a full-service day camp for newly arrived refugees. To learn more about this 2019 Belin Award-winning initiative, we spoke with Lucy Beckett, the teenager who dreamt up the concept, as well as Denise Crevin, the congregation's director of education, and Sharon Rogoff of Women of B'nai Israel.
Image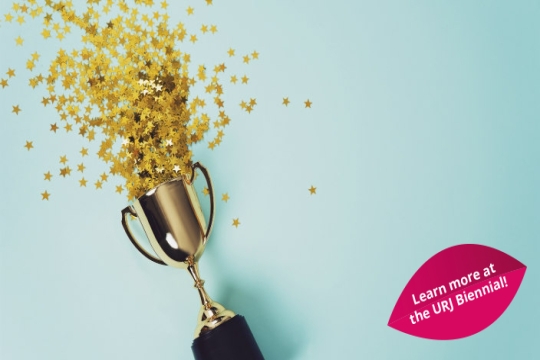 Meet eight award-winning congregations that have developed innovative programs rooted in the concepts of audacious hospitality that also engage and retain members.
Image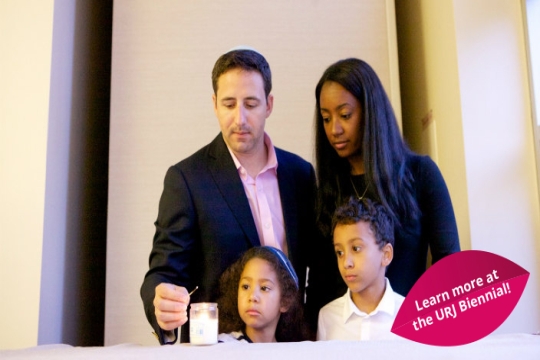 Throughout the course of 12 years, Temple Shalom in Succasunna, N.J., experienced a number of hardships, ranging from financial difficulties to a decline in membership. As it turned out, though, the thing that would inspire this community to thrive once again was, well, the very community itself.