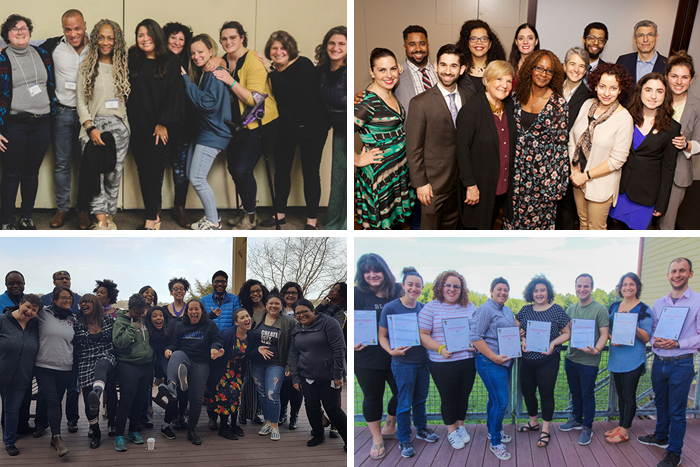 What is the JewV'Nation Fellowship?
The JewV'Nation Fellowship is a leadership development program that was originally created and piloted by April Baskin, the URJ's Immediate Past Vice President of Audacious Hospitality. The fellowship was designed to engage visionary Jewish leaders across North America. This six-month fellowship supports 10-16 Jewish leaders ages 18-118 through professional development, networking opportunities, training and empowerment aimed at expanding the field of Jewish leaders and creating communities of belonging in the Reform Movement, the broader Jewish community, and beyond.
All of our cohorts are rooted in principles related to Racial Equity, Diversity, and Inclusion (REDI), with the goal of creating an environment of true belonging. Our Jewish community is incredibly diverse and intersectional with regard to race, ethnicity, gender identity, sexuality, disability status, socioeconomic backgrounds, marriage/relationship status, body size, family composition, and more. In order for our communities to be whole and for people of all backgrounds to experience a sense of belonging in them, we must find equitable ways of incorporating all of our diversity as well as addressing the oppression we know exists both in and outside of our communities.   
Our Jewish communities are enriched when our leadership reflects the actual diversity of our Movement. We believe strongly in the idea of the "Jewish and…" identity. We recognize that there is no single way to be a Jew; we are Jewish and Latinx, Jewish and transgender, Jewish and living with a disability, and so many more "Jewish and's…". Our brightest possible Jewish future requires that individual Jews and their loved ones are affirmed, not despite their diversity, but because of the essential value our diversity brings. This fellowship seeks to elevate the leadership of Jews who experience the world through multiple identities and underrepresented (and often marginalized) backgrounds.  
Each cohort of the JewV'Nation Fellowship has focused on a different interest or affinity group, including Jews of Color, LGBTQ+ Jews, Jews interested in bringing DEI (Diversity, Equity, and Inclusion) to our broader communities, and a project-based social justice cohort.
Please e-mail REDI's Operations and Program Manager, Aliza Greenberg, at agreenberg@urj.org with any questions you may have about the JewV'Nation Fellowship.
The JewV'Nation Fellowship is proudly funded and sustained by grants from the Jews of Color Field Building Initiative, the Genesis Philanthropy Group, a generous URJ donor in collaboration with the Jewish Funders Network, and anonymous donors. The 2022 Jews of Color JewV'Nation Cohort is made possible by a generous grant by an anonymous donor and Congregation Emanu-El of New York.