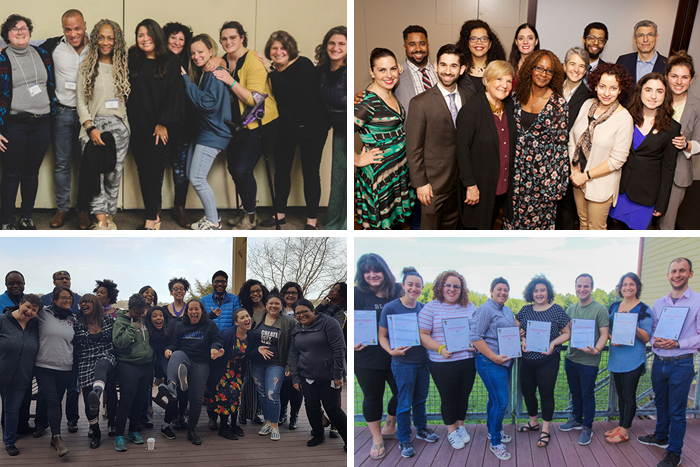 What is the JewV'Nation Fellowship?
The JewV'Nation Fellowship is a leadership development program that was originally created and piloted by April Baskin, the URJ's Immediate Past Vice President of Audacious Hospitality. The fellowship was designed to engage visionary Jewish leaders across North America. This six-month fellowship supports 10-16 Jewish leaders ages 18-118 through professional development, networking opportunities, training and empowerment aimed at expanding the field of Jewish leaders and creating communities of belonging in the Reform Movement, the broader Jewish community, and beyond.
All of our cohorts are rooted in principles related to Racial Equity, Diversity, and Inclusion (REDI), with the goal of creating an environment of true belonging. Our Jewish community is incredibly diverse and intersectional with regard to race, ethnicity, gender identity, sexuality, disability status, socioeconomic backgrounds, marriage/relationship status, body size, family composition, and more. In order for our communities to be whole and for people of all backgrounds to experience a sense of belonging in them, we must find equitable ways of incorporating all of our diversity as well as addressing the oppression we know exists both in and outside of our communities.   
Our Jewish communities are enriched when our leadership reflects the actual diversity of our Movement. We believe strongly in the idea of the "Jewish and…" identity. We recognize that there is no single way to be a Jew; we are Jewish and Latinx, Jewish and transgender, Jewish and living with a disability, and so many more "Jewish and's…". Our brightest possible Jewish future requires that individual Jews and their loved ones are affirmed, not despite their diversity, but because of the essential value our diversity brings. This fellowship seeks to elevate the leadership of Jews who experience the world through multiple identities and underrepresented (and often marginalized) backgrounds.  
Each cohort of the JewV'Nation Fellowship has focused on a different interest or affinity group, including Jews of Color, LGBTQ+ Jews, Jews interested in bringing DEI (Diversity, Equity, and Inclusion) to our broader communities, and a project-based social justice cohort.
2022 JewV'Nation Cohort will be our second Jews of Color cohort
Fellows will:
Develop leadership skills that will prepare Fellows for new challenges
Create a strong community of colleagues, friends, and mentors
Gain program development and outreach skills within a Jewish context
Expand their network of innovators, clergy, lay leaders, and advocates
Deepen knowledge of Jewish texts, traditions, and history related to community building
Restore and Rejuvenate in a safe and supportive environment
The 2022 FELLOWSHIP
The 2022 JewV'Nation Jews of Color Cohort will largely be focused on identity building, exploring, and centering issues pertaining to racism, Jews of Color, and issues that disproportionately affect marginalized communities.
In addition, we will focus on understanding the implications of our own intersectionality and collaborating on ways to share vision and strategies towards restoration and creating impactful change.
This cohort will be provided access to leadership resources, exclusive networking and community building opportunities with their cohort, previous cohort members, and leaders within the Reform Movement. JewV'Nation Fellows will have the opportunity to meet periodically with JewV'Nation alumni to learn and grow together, as well as with other JOC leaders in the field, deepening and strengthening their position as leaders in the community.
Following the completion of this fellowship, we anticipate that the Jews of Color leadership cohort will have a measurable impact on our camps, congregations, youth groups, North American Board,  Commission on Social Action, and many other important institutions and leadership bodies.
THE 2022 JOC JEWV'NATION COHORT WILL INCLUDE:
Twice-monthly leadership seminars, many of which will include professional development and skill building, as well as feature prominent Jewish leaders and REDI professionals. 
Exercises and activities that focus on restorative healing and self-care
An exploratory creative track that will draw on each fellows' natural gifts and provide them a frame and support with which to further explore their talents within the Reform Movement
Opportunities to attend professional development trainings from outside organizations
Mentorship and support from the REDI team and fellowship assistant(s)
Cohort relationship building (including cross-cohort connections)
One foundational online retreat to kick off the fellowship
One in-person retreat, fostering deep connections amongst fellows
Potential future opportunities to participate in and/or co-facilitate or design programs that support the URJ's efforts towards building a more inclusive organization and movement.
WHO SHOULD APPLY FOR THE JEWV'NATION FELLOWSHIP?
For each cohort, we seek Jews who embrace Reform Jewish values, ages 18 to 118 who live in North America and are passionate about promoting diversity, equity, and inclusion (DEI) in the Reform Jewish world no matter what your current profession. This year's cohort is recruiting Jews who self-identify as a "Jew of Color." Please note that we understand People of Color (POC) and Jews of Color (JOC) are not a monolith and that "POC" and "JOC" are not perfect terms. For this Fellowship, we will be utilizing the term JOC to ensure a race-based affinity cohort in which Jews of Color are encouraged to apply. We understand that some people are mixed race, multiracial, biracial, and may hold multiple identities (ex; White & Black, Black & Southeast Asian, etc.). For the purposes of the fellowship application, please confirm that you are a "Person of Color," which we understand does not capture the nuance of everyone's identity.
Each of our cohorts are different, and no group of people are a monolith. We always encourage those with "Jewish and…" (intersectional) identities to apply. The 2022 Jews of Color (JOC) JewV'Nation Cohort will be dedicated to empowering Jewish Leaders of Color with intersectional identities (Jews of Color who are also members of the LGBTQ+ community, from interfaith backgrounds, live with disabilities, women, transgender individuals, identify as fat or live with a marginalized body type, from economically disenfranchised backgrounds, and other marginalized identities). We will empower our fellows with a variety of principles around Racial Equity, Diversity and Inclusion (REDI), including self-care, and work through a Jewish lens. as well as how to translate, deliver and disseminate this information throughout the Reform Movement.
Applicants should be community oriented, reflective leaders committed to personal and professional growth, as well as building a diverse, equitable, and inclusive Jewish community rooted in REDI. We are especially interested in applicants who are connected to or are very interested in pursuing leadership roles within Reform Jewish communities (congregations, organizational work, youth professional work, etc.). Please note that leadership experience is not limited by title; we are looking for candidates who have demonstrated a commitment to improving themselves and their communities.
Does this sound like you? If so, apply now! Please e-mail REDI's Executive Assistant, Aliza Greenberg, at agreenberg@urj.org with any questions you may have.
The JewV'Nation Fellowship is proudly funded and sustained by grants from the Leichtag Foundation, the Genesis Philanthropy Group, a generous URJ donor in collaboration with the Jewish Funders Network, the Jews of Color Field Building Initiative, and anonymous donors. The upcoming 2022 Intersectional Jews of Color JewV'Nation Cohort is made possible by a generous grant by an anonymous donor.