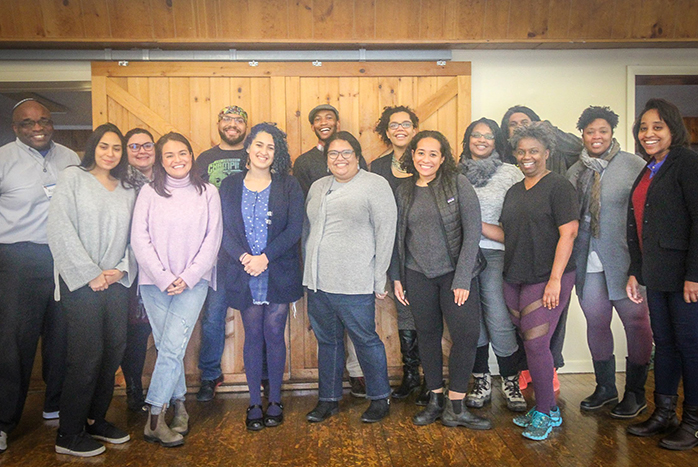 What is the JewV'Nation Fellowship?
JewV'Nation Fellowship is a leadership development program for visionary Jewish leaders across North America. This nine-month fellowship supports 10-16 Jewish leaders ages 18 to 118 through professional/leadership development, networking opportunities, and training aimed at expanding the field of Jewish leaders in the Reform Movement and beyond. 
All of our cohorts are rooted in principles related to Diversity, Equity, and Inclusion (DEI). Our Jewish communities are incredibly diverse with regard to race, ethnicity, gender identity, sexual orientation, ability, socioeconomic backgrounds, marriage/relationship status, family composition, etc. In order for our communities to be whole and for people of all backgrounds to experience a sense of belonging in them, we must find equitable ways of incorporating all of our diversity.  We must address oppression, including our own individual biases.  Only then will we be able to create inclusive, equitable communities.
Our Jewish communities are enriched when all people are equipped not only to participate, but to lead. We believe strongly in the idea of the "Jewish and…" identity. We recognize that there is no single way to be a Jew; we are Jewish and atheist, Jewish and Latinx, Jewish and transgender, etc. Jews experience the world through multiple perspectives, and we honor our fellows' perspectives as they advance as community leaders through the Fellowship.
Each cohort of the JewV'Nation Fellowship has focused on a different interest or affinity group, including Jews of Color and LGBTQIA+ Jews. Our current JewV'Nation cohort is focused on bringing the principles of Diversity, Equity, and Inclusion (DEI) to our broader communities.
Each JewV'Nation fellow will:
Advance professionally through comprehensive leadership training
Create a strong community of colleagues, friends and mentors
Develop knowledge of Jewish texts, traditions, and history related to community building
Expand their network of innovators, clergy, leaders, and advocates
Gain program development and outreach skills within a Jewish context
Our Jewish communities are not whole until Jews from all backgrounds see their identities reflected within them. This unique Fellowship helps Reform Judaism address issues related to racism, homophobia, ableism, and other forms of oppression that prevent our communities from engaging with others and fostering a kehillah k'dosha (holy community). Fellows will develop on-the-ground skills and the ability to help create communities rooted in Audacious Hospitality. Our brightest possible Jewish future requires that individual Jews and their loved ones are included, not despite their diversity and interests, but because of them. 
Think of JewV'Nation as your leadership launch pad. Whether you're looking to advance your career as an educator or lay leader, considering rabbinical or cantorial school, are interested in exploring opportunities for local or North American leadership, or are simply looking to hone your vision and more effectively get your message out, JewV'Nation is an incredible opportunity for you!

-April Baskin,  Immediate Past Vice President of Audacious Hospitality
Fellowships like this are incredibly important. By giving marginalized groups the opportunity to speak for ourselves, we have the ability to speak on our experiences firsthand, and to work with those that fall outside of dominant culture, to change the Jewish world for the better (and the world as a whole). I'm grateful to be part of a Fellowship that works on disrupting oppression and have gained skills and tangible tools to take with me as the fellowship ends.

-Elias Rubin, JewV'Nation Fellow: LGBTQIA+ Cohort
Describing this fellowship as "life changing" is a gross understatement. Due to the opportunity provided by Audacious Hospitality, I have found the friends and validation I never knew as a Jewish professional of Color. As I go on to Rabbinical School, I now know I have the strength and support system I desperately needed to succeed.

-Kelly Whitehead, JewV'Nation Fellow: Jews of Color Cohort
To that end, the JewV'Nation Fellowship empowers fellows to seek out and thrive as leaders in their local communities and campuses. The Fellowship structure is as follows:       
Twice-monthly live online leadership seminars to provide fellows with a range of skill building and leadership development trainings (with the current cohort focusing on intensive DEI skill building and facilitation), feedback and coaching, cohort relationship building, grounding in Jewish Text, and the chance to network with high-profile North American Jewish leaders.
An intensive in-person retreat focused on identity work, DEI training, skill building, and project development.
The JewV'Nation Fellowship has been proudly funded and sustained by grants from the Leichtag Foundation, the Genesis Philanthropy Group, a generous URJ donor in collaboration with the Jewish Funders Network, the Jews of Color Field Building Initiative, and anonymous donors. The current Diversity, Equity, and Inclusion Cohort is made possible by a generous grant by an anonymous donor.
Who has been in our past fellowships?
To date, we have had four incredible fellowships:
2017 Inaugural Cohort: In our pilot cohort, fellows engaged in cutting-edge professional and leadership development seminars and created projects that served a unique population and told a compelling narrative about the vibrancy and gifts in the Jewish community. Each project received a micro-grant of $3,000 to further their work and solidified a solid beginning for our unique fellowship.
2018 Jews of Color Cohort: 1 in 7 Jews is a person of color, but due to oppression, our communities don't always reflect this reality. This cohort was designed to change that by addressing specific topics related to Jews of Color and to infuse a deeper understanding of antiracism in our Jewish communities. In addition to leadership training and seminars, our 16 fellows engaged in group projects, each with a focus on positively impacting Jews of Color and equipping our communities to better address racism.
2018-2019 LGBTQIA+ Cohort: An estimated 10% of North American Jews identify as LGBTQIA+, but they have long been the target of discrimination, within both the Jewish community and in the world at large. In this cohort, we provided 13 LGBTQIA+ Jewish leaders the resources to create projects and initiatives leading to more open and inclusive Jewish spaces.
2019-2020 Diversity, Equity and Inclusion (DEI) Cohort: DEI is at the core of everything we do within Audacious Hospitality, and this current cohort is designed to live out these integral values. Like past cohorts, 10 fellows will engage in seminars focusing on identity enrichment, professional development, Jewish learning, mentorship, equity and inclusion training, and other key topics. These fellows also will work directly with clergy and lay leaders (Congregation Partners) to implement congregational initiatives focused on making our communities more diverse, equitable, and inclusive.
Who should apply for the JewV'Nation Fellowship?
Applications for the JewV'Nation Fellowship are currently closed.
For each cohort, we seek Reform Jews ages 18 to 118 who live in North America and are passionate about promoting diversity, equity, and inclusion (DEI) in the Reform Jewish world. Each of our cohorts is different, however we always encourage those with "Jewish and…" identities to apply. This includes Jews of Color, LGBTQIA+ Jews, Jews with disabilities, and Jews from other marginalized identities. Applicants should be ambitious, reflective leaders committed to personal and professional growth, as well as building a diverse, equitable, and inclusive Jewish community rooted in audacious hospitality. We are especially interested in applicants who are connected to or are very interested in pursuing leadership roles within Reform Jewish communities (congregations, organizational work, youth professional work, etc.). Please note that leadership experience is not limited by title; we are looking for candidates who have demonstrated a commitment to improving themselves and their communities.
Does this sound like you? If so, check in for more information about our upcoming cohorts by joining the Audacious Hospitality-Outreach group in The Tent and be sure to apply! Please e-mail Audacious Hospitality's Program Manager Jennifer Goldstein at jgoldstein@urj.org with any questions you may have!