Image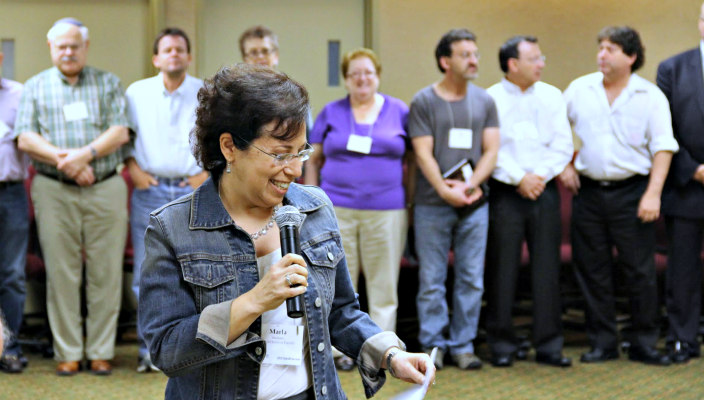 Today's congregational leaders are confronted with challenges that are different from those they encountered in the past and those they encounter in other leadership settings. Both emerging and seasoned leaders need to invest in forward-thinking leadership development to ensure they possess the skills, behaviors, and mindset necessary to lead change in their congregations.
To help with this important work, the URJ offers a range of leadership development opportunities, so there's sure to be something suitable for every leader in your congregation.
1. URJ Biennial: Learn and Network with the Entire Reform Movement
Register now for the 2019 URJ Biennial, the largest Jewish gathering in North America, to be held in Chicago, IL, from December 11-15. Join with 5,000 other people to learn, pray, share ideas, and celebrate Reform Jewish life together. 
Featuring more than 125 learning sessions, the Biennial will include four distinct learning intensives: social justice leadership; leadership development; membership engagement and financial resource development; and early childhood and youth education. Each is designed with specific audiences in mind. Whatever sessions and events Biennial attendees participate in, they not only gain knowledge, resources, and expanded networks, but also bring all these things back to their congregations, where they can use them to make a lasting impact and enrich all facets of congregational life. Registration is open through December 6 or until we hit capacity.
2. URJ Scheidt Seminar: Leadership Development for Congregational Presidents
The URJ Scheidt Seminar for Presidents and Presidents-Elect, our flagship training for congregational presidents and presidents-to-be, provides opportunities for participants to learn with other congregational presidents, network with the Reform Movement's leaders, and enhance their leadership skills so they're well positioned to lead change in today's congregations. The seminar serves as a springboard for learning and networking throughout the presidents' tenures. In 2020, the URJ Scheidt Seminar will be offered twice, but each president can attend only once, and space is limited.
Register now: February 6-9 in San Diego, CA, or April 23-26 in Atlanta, GA.  
3. URJ Board Workshops: Tailored for Your Congregation 
URJ Board Workshops are five- to six-hour retreats held in your synagogue and tailored to your congregation's individual needs and interests. A URJ-trained facilitator will work with your leaders to plan the content, agenda, and other facets of the workshop. During the session itself, board members will discuss ideas, strategize, and plan for the future of your congregation. Following the workshop, the URJ will support your congregation as it proceeds to the next steps in implementing a plan. 
Learn more and request a workshop for your board today.
4. URJ Emerging Leaders Resource: The Foundation of Leadership Development
How can you train your new lay leaders to develop general leadership skills, immerse themselves in Jewish learning, and become knowledgeable about your congregational community? 
Access the URJ's Emerging Leaders Resource, which can serve as the basis of your congregational leadership development program. A flexible curriculum that can be personalized to meet the individual needs of your congregation, this resource can be complemented by  webinars, offered quarterly, for leaders who wish to use it to train the emerging leaders in their congregations.
For more information and to sign up for a training webinar, visit the Emerging Leaders Resource page on our website.
5. A Growing List of Leadership Opportunities for Reform Jewish Teens
Earlier this year, we announced a new suite of teen leadership opportunities – and the list keeps growing. The URJ created these opportunities so that every teen who wishes can develop critical skills around leading and learning – no matter their passions, level of experience, or time commitment. In this way, Reform Jewish teens can have a hand in shaping the Reform Movement, both now and long into the future.
Check out all the options and share them with your congregation's teen leaders.
Providing leaders with opportunities for ongoing learning is essential for their personal growth and fulfillment – and the well-being of your community. The URJ stands ready to support you and your congregation in the critical work to ensure that both your longtime and emerging leaders are the absolute best they can be.
Have something to say about this post? Join the conversation in The Tent, the communications and collaboration platform for congregational leaders of the Reform Movement. You can also tweet us or tell us how you feel on Facebook.
Related Posts
Image
One of the most consistent messages we hear from congregational presidents is that they often feel alone with the heavy weight of responsibility for their congregation. While we encourage and work with them to build sacred partnerships with professionals, clergy, and fellow lay leaders at their congregations, we also hear that they want to be connected to people who are in the same role at other congregations.
Image
On the Jewish calendar, the start of the month of Elul signifies the beginning of the High Holiday season. As individuals, it is during this time that we begin the process of cheshbon hanefesh (accounting of the soul), reflecting on the past year. So too, it is important for your leadership and community to reflect on the past year and consider how to do better moving forward.
Image
It is hard to believe that we are entering the third High Holiday season with the words "new normal" ringing in the back of our minds. This year, our leaders - clergy, professionals, and volunteers alike - are leaning into the possibilities and making plans for the new Jewish year of 5783.