Image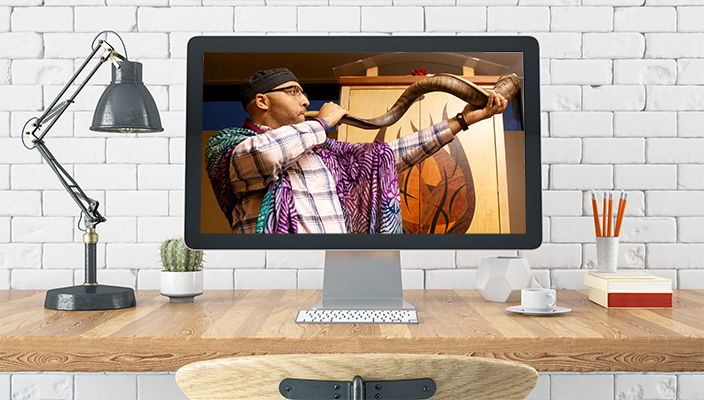 As communities across our Movement grapple with how to celebrate the High Holiday season this year, we know you have been engaged in deep thinking about what comes next. Your questions include queries about scenario-planning, how to create community at a distance, how to best use technology, understanding the impact of High Holiday themes, and how clergy, staff, and lay people can work together to create your vision for these unique and holy days.
As conversations continue about how to best prepare for the High Holiday season, we would like to help you continue to ask the right questions, arrive at the best answers for your communities, and support you in their implementation. Read on to see what we have learned together, access what you might have missed, and learn what resources will be coming your way over the next two months.
We are pleased to be working with our Movement partners HUC-JIR, CCAR, ACC, NATA, ARJE, ECE-RJ, PEP-RJ, NFTY, WRJ, and MRJ as well as other partner organizations and affiliates to offer the best collaborative thinking and the most comprehensive resources to guide your visioning and planning.
Scenario Planning and Guides
Cross-Movement COVID-19 Guide to Reopening
As national, state, and local health authorities begin to allow additional activities in certain communities, congregational leaders are considering the process of re-opening. Economic and communal pressure, the sense of loneliness and isolation, and the desire to "get back to normal," may sway some leaders toward re-opening. As articulated in the rabbinic statements linked below, Jewish values obligate us to consider the broader implications of our actions, including the risk to the lives of our clergy, seminary students, employees, volunteers, congregants, and those who would come in contact with them. This guide to the considerations for re-opening serves as a template to aid in your decision-making process.
"The Quadrant Method: High Holiday Scenario-Planning Resource"
This resource, created by Amy Asin, URJ vice president of Strengthening Congregations, is designed to help guide your decision-making and planning for the months ahead.
Watch a recording: "Applying High Holiday Scenario Planning to 5781"
This webinar, designed for individuals or teams and led by Amy Asin, offers guidance on how to best use the URJ scenario-planning tool (tool linked above).
Worship
Partnership & Innovation
Watch a recording: "A Shared Vision: Working Together to Make Meaning for Your Community" 
This webinar and available tool can help your whole team, including clergy, staff, and senior lay leadership, share different strategies for creating sacred partnership in challenging times with transparency, shared co-creation, and support for one another.
Watch a recording: "Re-Imagining High Holiday Moments: Experimenting with What Has Changed, What Will Change, and How to Think Differently"
Join educator and expert in the art of intergenerational engagement, Karina Zilberman, for a look at how different ritual moments of the High Holiday season help us understand and appreciate the time between Elul and Yom Kippur as a whole. Experimenting with Tashlich, our shofar ritual, and the potential of prayer, Karina shares ways to think more broadly about the spiritual power of these experiences in this time of digital gathering and online worship. Presented by URJ and ARJE.
Watch a recording: "Best Principles of Engagement through the Lens of the High Holidays" (with URJ, NATA and PEP-RJ)  
This webinar addresses some of the key questions on the minds of congregational leaders about High Holiday engagement: What is the job of a membership committee in a time of social distancing? If services aren't in person, is there a role for ushers, and how can we reimagine the role of the High Holiday Committee? This webinar is valuable to both those who have made a decision and those who are still working through the question of what kind of High Holiday experience you will be creating. Please note: this call does not address liturgy or live streaming. Presented by URJ/PEP-RJ/NATA.
Technology
Watch a recording: Best Principles and Practices for Using Technology for High Holiday Worship 
Leading your community during the Holidays this year will require using creative technology more than ever before. Learn the best principles and practices for utilizing such technologies as live-streaming, Visual T'filah, how to create an inviting community experience, and more. In this recording, experts from the URJ, CCAR, and across the Movement offer practical guidance and strategic thinking. Led by Rabbi Dan Medwin, Rabbi Leora Kaye, and Josh Mason-Barkin, this webinar was geared towards individuals and small teams with modest to mid-level experience.
Vimeo Video Series on Principles and Practices for Music Production in Worship
This series contains a series of how-to videos provided by the ACC for all of our partners.  They include how to make a simple choir video on PC and on MAC, how to mix an instrument with the voice into zoom, how to make a simple Filmora video for your congregation, and how to optimize sound for your virtual worship.
Upcoming
"Being Inclusive and Accessible from the Start: Celebrating Your Whole Community"
Date and time TBD
Presented by the URJ Audacious Hospitality staff, this webinar offers clergy, staff, executive directors, and lay leaders leading communal experiences guidance around creating a sense of belonging for all community members. It will highlight best practices in equity and inclusion while leading small groups, worship, teaching, and programs.
"Marketing and Communications: Sharing Your Message with Intention"
Date and time TBD
Led by the URJ Marketing and Communications staff and PEP-RJ, this session addresses ways to clearly communicate and share your plans with your communities and build pathways in for people who may join you for the High Holidays.
"Social Justice and Compassion in the Book of Jonah"
Monday, August 3, at 3pm ET
Accessible to members of the CCAR and ACC; led by Rabbi Dr. Shmuly Yanklowitz, author of The Book of Jonah: A Social Justice Commentary.
"Mindful Leadership: A RAC Master Class"
Monday, August 17; exact time TBD
Accessible to members of the CCAR and ACC
"A Selichot Worship Experience"
The CCAR and ACC will release a pre-recorded worship experience, containing music, original prayers and readings, and liturgy from Mishkan haLev – Prayers for Selichot and the Month of Elul, at the end of August for your use in Selichot.
Have something to say about this post? Join the conversation in The Tent, the communications and collaboration platform for congregational leaders of the Reform Movement. You can also tweet us or tell us how you feel on Facebook.